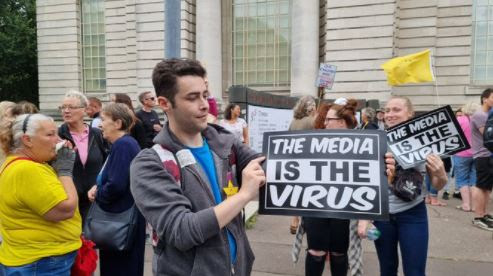 Finally it appears that the resistance is spreading around the world. The 'Vaxx-Passports' lockstep plan being played out across the world is really making everyday people open their eyes to what we all know has been happening over the last year and a half. It was also excellent to see big numbers out across Australia that really has been at the forefront of the insanity.
Closer to home it was great to see so many out in London as well as big numbers in Cardiff, Glasgow, Manchester, Leeds and many more. Likewise all the right people have been triggered by them which always makes it worthwhile! I was scanning social media last night and I came across the picture above from Cardiff and this is the signs that we made and produced thanks to all our supporters and we see so many of these at rallies across the UK which is really humbling.
The Chancellor today is briefing the press about the removal of cash from the UK and the introduction of a Digital Currency but hey we are all just crazy conspiracy theorists aren't we! This is set to be a LONG show so please get your popcorn out!
I will be in touch during the week about plans for upcoming outreach events and be sure if not already you are subscribed to use
 

here on Telegram

 

for updates.  
Kind Regards,
David Clews