I said I would only get in touch if something urgent comes up and unfortunately it has. Boris Johnson is a liar, chancer and destroyer of this country. He has just gone on the airwaves and said that lockdowns NOT vaccinations have seen death rates & hospitalisations fall. Now I would personally say both of those factors are highly disputable but the fact remains that Johnson and the criminals running SAGE specifically said that their vaccinatuon programme was the answer and now they are saying it is lockdown. This is being done deliberately to set the scene for the Coronavirus Act 2020 to be extended in September again, this CANNOT be allowed to happen. As a nation we stand on the edge of the abyss looking off unless we unite against this tyranny. 
Many people still have hope for the number of legal cases out there. I have to be honest with you though uk in that hoping for the silver bullet/Holywood ending is very dangerous. The power lies within YOU and the rest of the people out there. Only when the people say enough is enough of living like this and being allowed to make our own health decisions can we get back to normal.
So I am asking everyone who has signed our petitions or as a supporter to stand up and play your part. Firstly one of the most important areas in this battleground is on social media. If you haven't already it is essential you follow us on the below channels for updates and to share our messages with your friends and family. While you are on Telegram all the details of the businesses we are lobbying are there and we need polite yet firm emails, letters and phonecalls to be made.
Secondly we really want to hit stage 1 of our crowdfunding to ensure we have plenty in the tank for our upcoming demonstrations and travel around the UK. We are so grateful to everyone who has chipped in to this and if you are able to contribute please click below now:
Thirdly, we need as many of you out as possible at our upcoming demonstrations this weekend in Sheffield and in London and then of course out on the 24th. If you are short of finances and need some help towards petrol costs/travel please reply and we will see what we can do within reason thanks to our very generous donors.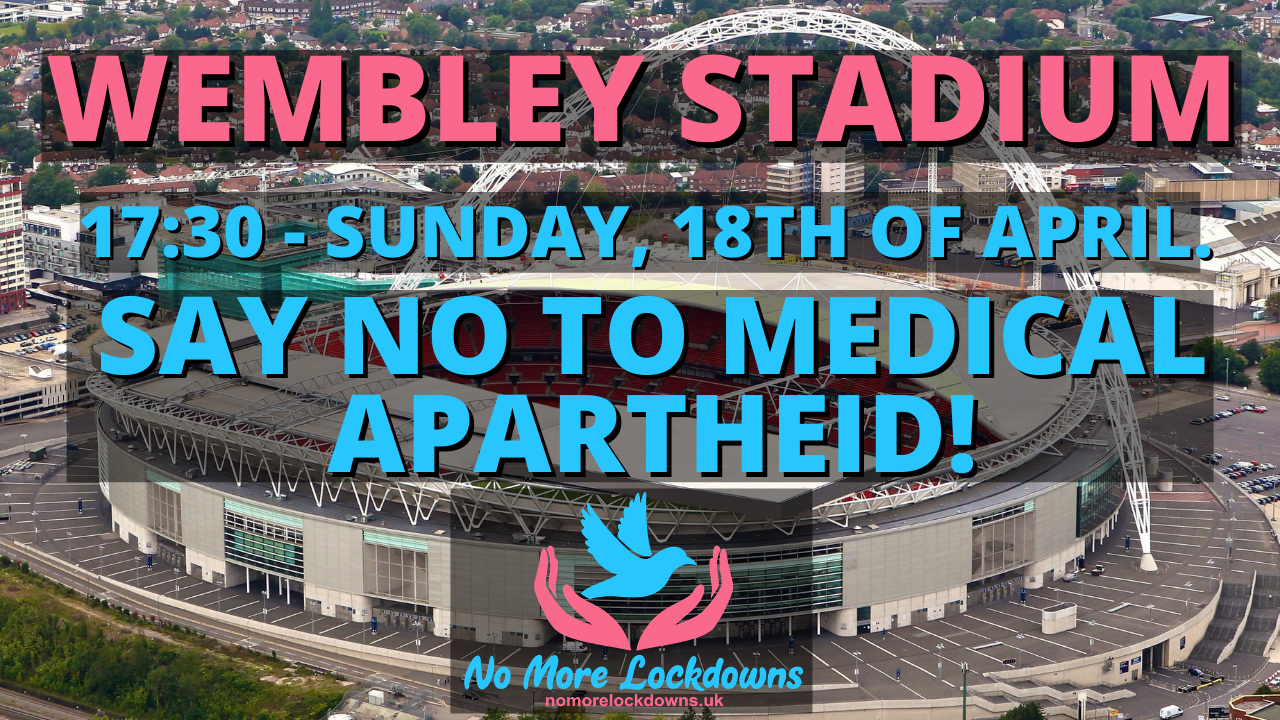 Finally you need to look into your heart and be prepared to say that you will not stand for this any longer and are prepared for the challenges that lie ahead. Many of you have lost friendships, relationships, business and loved ones over this but we are doing this for the future of a free and fair nation. Not everyone can donate or attend events but you can play your role on social media and in speaking directly with people or handing out some leaflets if you can.
It really is very simple, we cannot allow Vaxx-Passports in this country and the Coronavirus Act 2020 cannot be extended in September. The country will at that point be under a puppet dictator with economic and social carnage across the board. Our anti-vaxx passports leaflets will be ready on Friday and if you would like some of them or posters/stickers/No More Lockdowns leaflets please email
 

[email protected]

 

directly and he will sort you out.
Victory and a glorious new day is ours if we take it!
David